Barramundi 470 - Wild One - specifications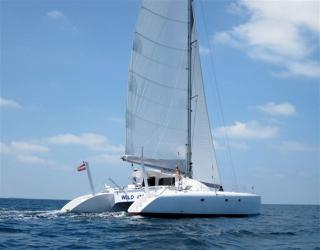 Barramundi 470
Yard: Barramundi Asia Boats
Design: Erik Lerouge / France

Production Method: Epoxy - Corecell Sandwich / Vacuum Infusion

Length: 14,70 m
Width: 7,80 m
Weight: 6.000 kg
Engines: 2x29 PS Diesel

Mast Height: 18,40 m
Sailarea
: 139 m2
Spi: 168 m2
Gennaker: 130 m2
Barramundi 470 - Wild One
Design /Architect: Erik Lerouge www.lerouge-yachts.com
Boatbuilder:
BarramundiBoatyard (PVT) LTD.
Export Processing Zone
Koggala, Habaraduwa,
Sri Lanka
data / dimensions:
Length, 49feet, width 7,8m
Empty Weight:6500kg (one of thelightest bridgedeck production cats available)
Boat built2010
Finished2011
CEcertified 2011
boat discription:
Barramundi 49 is one of the lightest and fastest bridgedeck cats available. Itwas built with exclusive materials (cevlar, carbon, epoxy, core cell foam) by ahigh tech production process (vacuum infusion into a negativ mould) The boat isdesigned to be navigated single handed. It is fully equiped for acircumnavigation and will be handed over completly reworked. (new shrouds,ropes, paint, antifouling, engines serviced.) It has been sorrowly debuged andimproved in the previous years.
production process:
The boat wasbuilt by Barramundi Boat Yard. (French Boatyard experianced buliding Le Rougeepoxy boats who transfered production from Europe to Sri Lanka) - including CADmachines and most of the french / belgian management. Erik Lerouges design hasbeen proved on multiple circumnavigations. Older brands are Freydis fromSoubise or Petter.
The boatwas vacuum infused into a 3 part negative mould previously built from a plug. Aminiseries of 5 other Barramundi 49 was built 2010.
Built of sandwichfiberglass above waterline – underwater, keel and rudders is built of kevlar.
Resin usedis epoxy from West Systems. Foam is corecell..
Paint andfiller used is awlgrip, awlfare. 2 componet polyurenthane paint – coloursnowhite
No osmosispossible with epoxy, less weight since more strength. Hull has been soroughlycured.
Interior, layout:
Thefurniture is kept light (Sandwich instead of massive wood has been used ) butstylish with mahoni wood finish – all weight relevant parts made of foam andwood venir.
Mahaoniparts have been worked with CAD machines.
Layout isa owner version with doublebunks in the front and rear on the starboard side (a bathroom in the center) and one double bunk on the port side with one bigbathroom and shower in the front.
All 3double bunk beds equipped with 7 zone cold foam matresses - queensize.
engines, technical Installations:
2 Yanmar29HP engines / Saildrive SD20
decklayout / rigging/ harware:
LewmarWinsches (2x58 on the roof, 1x58 for the main, 2x48 for traveler, 2x48 for thespi, 2 46 for the mast),
Themainsail can be hoisted with the horicontal anchorwinch by one person.
Mast -Sparcraft Ocean, Boom Sparcraft Performance
Shrouds,Headstay – Dyform -12mm – new 2013
Masttrack,Genuatracks, Rollers, Pulleys - Frederikson / Ronstan – racing series
Most ofthe sheets and halyards Dynema
AnchorwinchLewmar Tigre 1200W
Anchorchain60m - 10mm - Stainlesssteel
Anchor -Buegelanker - Stainlesssteel
2nd Anchor- Fortress Aluminium Anchor plus led rope
6 Fenders,3 Ropes
Stanchions:Niro Petterson
Net:Babtiline Ferrari
HatchesGojot
Davits –Carbonfiber
Instrumentmasts- Carbonfiber
Sails:
Main andGenua are made by ONE SAILS 2012 of Hydranet Radial – fabric with a 40% Spectracontent, which is why this cloth is twice as resistant as dacron.
Main 90m2square top – fully batten, triradial cut, Hydranet Radial (Spectra) – 2012
Genua 130%50m2, triradial cut, Hydranet Radial (Spectra) – 2012
1 Genaker140m2, triradial nylon 2,5oz – with sock
1 Genaker200m2, triradial nylon 1oz – with sock
FacnorFurlingsystem – LS 290 for headsail
FacnorFurler for Genaker
Electrical System:
AIS
SSBReceiver Nasa Target
RadioRaymarine Handheld Ray 101E
Radiobuilt in Standard Horicon Eclipse+
FM RadioPioneer
Inverter 12Vto 220V - 1000w
BatterychargingsystemA2B from Sterling Power
MainBatteriebank Mastervolt AGM 420A
2*Starterbatteries 70A
2* WindgeneraterAirmarine a 400W
2* Solarpanelsa 100W
RaymarineST60+ Instruments
hydraulicAutopilot Raymarine SPX10, ST70 Controller
Mastervoltswitch panel
LED 3colour mastlight
LEDadditional navigationlights
Decklight,engine light
warm LEDlights for interior and cockpit
Watersystem:
Watertank300l
Fueltank600l
2watermakers katatyn 35 – 2*5l/ h
2 electricVacum Toilets Lavac
deckshower
hotwaterboiler25l – hotwater in the two bathrooms and kitchen
6automatic Bilgepumps
2 40lblackwater holding tanks
Additional Equipement:
FoldingCockpittable to stowe away dice tanks and compressor
DivekompressorPosseidon P90
3 sets ofdiveequipment – tanks plus regulators
CaribeDingi 9,5feet, fiberglass keel
Yamaha25HP Outboardengine
Suzuki DT5HP Outbordengine
FiberglassPropanetanks