Barramundi Asia Boats, Koggola, Sri Lanka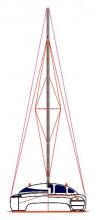 Production by Barramundi Boatyard PVT finished beginning of 2011
The boat wasbuilt by Barramundi Boat Yard. (French Boatyard experianced buliding Lerougeepoxy boats who transfered production from Europe to Sri Lanka) - including CADmachines and most of the french / belgian management. Erik Lerouges design hasbeen proved on multiple circumnavigations. Older brands are Freydis fromSoubise or Petter.
The boatwas vacuum infused into a 3 part negative mould previously built from a plug. Aminiseries of 5 other Barramundi 49 was built 2010.
Built of sandwichfiberglass above waterline – underwater, keel and rudders is built of kevlar.
Resin usedis epoxy from West Systems. Foam is corecell..
Paint andfiller used is awlgrip, awlfare. 2 componet polyurenthane paint – coloursnowhite
No osmosispossible with epoxy, less weight since more strength. Hull has been soroughlycured.

Basic production steps:

1.) Plug: Out of a wooden CNC cut sceletton designed by the famous french architect a male plug - actually a complete hull - is made out of foam stripes screwed to the wooden sceletton. This is then overlaminated first outside and then inside by epoxy vacum infusion.
2.) Mould: Out of the male plug a negative mould is made consisting of a center part and two side parts.
3.) Parts production: Many parts like the setee or the sink been produced off the boat
4.) Infusion of the boat: The mould is layed out with a outer fiber / kevlar skin - a foam core of Corecell and a inner fiber skin. Then the 3 parts of the hull are infused with epoxy in one go. For the infusion the most expansive available material have been used (Corecell foam, high quality marine epoxy, kevlar under the waterline)
Experienced Work Force managed by french / belgien boat builders
1.) male plug - Boat 0
2.) negative mould
3.) parts poduction
4.) Infusion
Dec. 2009 Postcuring the hull
Painting
Finetuning, Hardwareinstallation
Feb. 2010 to Jan 2011 finishing work