Skipper
---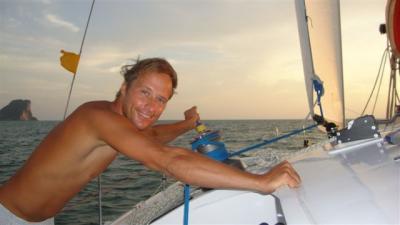 Martin Ernstbrunner

born 1974

Once is not enough!
I more or less grew up on a little Optimist Dingi sailing my first World Championship with the age of 10. Reading books in my fathers bookshelve from poeple living their dream on a sailing boat and discovering the world the wish of a long sailing trip grew more and more.
Studying technics and business administration and working as a management consultant was more a means to realise my dream - sailing around the world and discovering cool places.
After my first long sailing trip twice across the Atlantic with my 35 feet Jeanneau One Design cruiser-racer Bluenote 2003/04 I returned back to work to Austria - knowing that I need to save more money to finance my dream boat I saw on my first trip. And finaly - here I am - Wild One in the seas. 2011 the journey with my brand new 50ft dream sailing catamaran "Wild One" began.
I have sailed more than 90.000tsd miles in almost any weather conditions. Although careful routeplanning does avoid the worst. Recently I crossed my starting point and circumnavigated. Having all my toys on bord like dive gear with compressor, windsurfbords, kajak, kitesurfequipement, mountainbike and climbing equipement it seems to never get boring and I am happy to share a daily adventure with my crew.
On my trip more than 100 crewmmembers joined me and I was never alone - most of them became good friends and coming again and again.
Especially diving or snorcheling beside the island exploring can nicely combined with sailing.
So far I have logged more than 1500 dives and as divemaster can take interested crew on a first dive. Some crewmembers started this new hobby after a trip with me.
With our new Catamaran - a Nautitech 47 WILD TOO - we will sail in the Caribean 2017 / 2018.
Stephie and my babydoughter will be part of the crew.